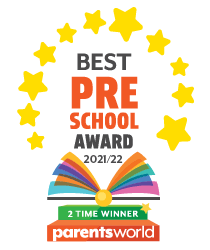 Best in STEAM Curriculum
Winner since 2020
We are honoured to be awarded Best in STEAM Curriculum by Parents World after their panel reviewed our nomination and visited our headquarters Cambridge @ Robertson.
" Walking the talk on the iSTEAM philosophy of "thinking with hands", Cambridge Pre-school has an iSTEAM playground equipped with structured and non-structured materials to deliver hands-on experiential learning. Here children feed their imagination and learn as they play. The school believes that these open-ended exploratory experiences are necessary for building high order thinking and problem-solving skills in growing children.
For the younger kids from playgroup to nursery, iSTEAM is integrated seamlessly into their everyday experiences so they can whet their sense of curiosity and inquiry. This sets the foundation for more concrete iSTEAM learning and innovations at Kindergarten where children learn how to extract DNA, create chemical reactions, and build circuits, code and much more. "
Extracted from Parents World
Don't take our word for it.
Sign up below for a virtual school tour or visit us on a weekend!
Cambridge @ Artra Alexandra
Artra
12 Alexandra View #02-01
Singapore 158736
Cambridge @ Dairy Farm
1 Jalan Suasa
Singapore 678493
Cambridge @ Fernvale
409A Fernvale Road #01-46
Singapore 791409
Cambridge @ MacPherson
50 MacPherson Road
#01-01 Amazana
Singapore 348471
Cambridge @ Kingsford Waterbay
Kingsford Waterbay
50 Upper Serangoon View #01-01
Singapore 533893
Cambridge @ Robertson
11 Unity Street
#02-01 Robertson Walk
Singapore 237995
In-house Japanese Teachers

Curriculum includes Japanese Culture Class

Japanese Enrichment Available
Cambridge @ Sengkang
50 Sengkang East Way
Singapore 548601
Cambridge @ Serangoon Gardens
22 Kensington Park Road
Serangoon Gardens Country Club
Singapore 557271
Cambridge @ Yio Chu Kang

1 Tamarind Road
Singapore 806011