We continue to be amazed by how our iSTEAM (Innovation, Science, Technology, Engineering, Arts and Mathematics) pre-school curriculum ignites children's innate curiosity and sense for the world around them.
Through hands-on inquiry and open-ended exploration of interesting topics, the children investigate, innovate, make comparisons and predictions, test out ideas, and share discoveries with their peers. These experiences enhance their ability to problem-solve and think creatively and critically. It is these uniquely human skills that will prepare them for their future world where technology and robots will be a seamless part of life.
Has your child experienced iSTEAM?
Sign up for our open house on Saturday, 27 July 2019 (10am to 12pm) and let your child experience the Cambridge iSTEAM way!
Enjoy an exclusive promotion worth more than $800* when you enrol your child at our open house!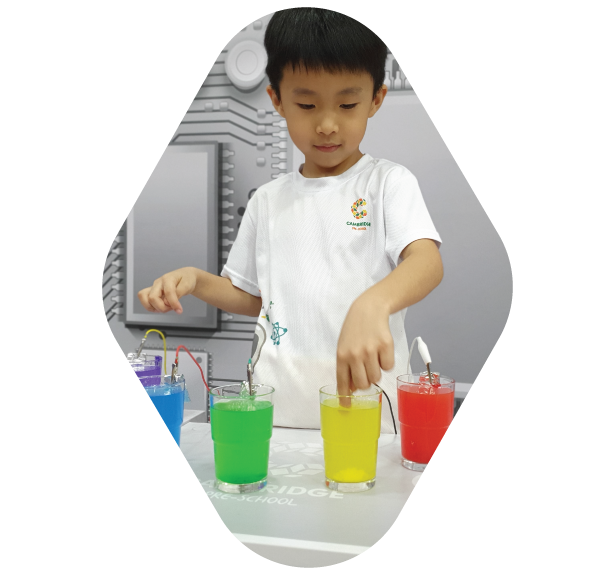 Building Circuits
Create your own musical instrument with everyday objects and play music in a fun and whimsical way!
Coding Animations
Programme your stories into exciting animations and make them come alive!
Create Virtual Reality (VR)
Think big and in 3D with VR Art, an art-meets-tech activity!
Paint & Power Up
Make an electrical circuit with conductive paint and turn simple illustrations into a multimedia showcase!
* Waiver of registration fee worth $321, school fees discount of $150 per month for first 3 months, and a complimentary set of uniforms.
Terms & Conditions
Valid for first-time enrolment into Cambridge Pre-schools in Singapore except Cambridge @ Dairy Farm and Cambridge @ Yio Chu Kang.
Subject to allocation availability at the centre's sole discretion.
Child must commence school by 2 January 2020.
Discount of S$150 per month will be applied on the child's school fees for the first three months.
Discount is inclusive of GST at the prevailing rate.
Discount is not valid with any other promotion.
Watch this video to discover some of the exciting iSTEAM learning experiences at Cambridge Pre-school!